Posted by Alice Jones Webb on Feb 25th 2020
An Overview of Marlin Lever Action Rifles
The lever action isn't just a rifle, it's also an important part of American culture. A famous symbol of the Old West, the lever action rifle is also an icon of the deer woods. Although the popularity of the once-celebrated "cowboy gun" is beginning to fade, the lever-action rifle is far from outdated.
The Marlin brand is practically interchangeable with the term "lever action rifle." Marlin has a rich lever-action tradition that began with their first centerfire rifle, the Model 1881. The model 1891 deserves a mention as well. This rimfire Marlin lever-action was used by the famous American sharpshooter, Annie Oakley, for her amazing feats of marksmanship.
Today, Marlin builds on their rich heritage and proven platforms, creating a modern day lever-action revival. The Marlin line-up has something for everyone, including traditional cowboys, serious big game hunters, and fans of all things tactical.
Let's take a closer look at Marlin's family of lever action rifles.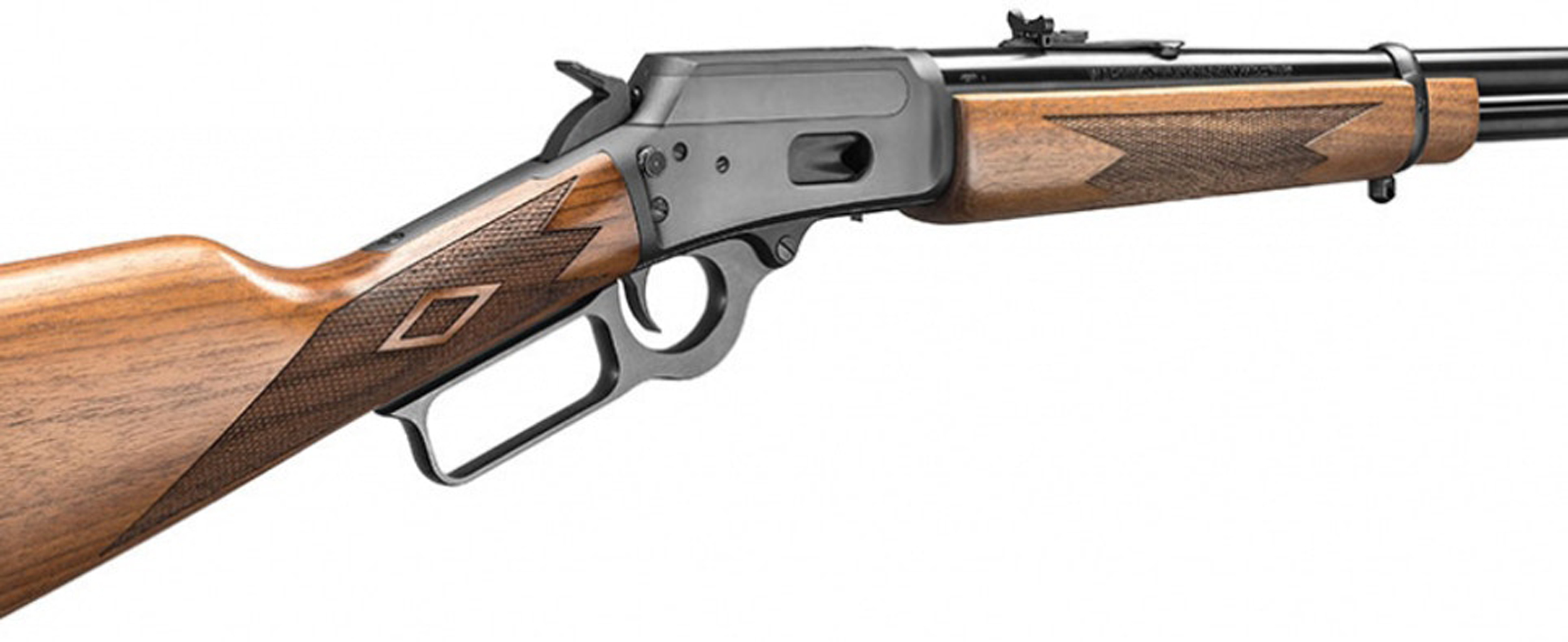 Marlin Model 1894
Patented in August 1893 by Lewis Hepburn, the Marlin Model 1893 was the first lever-action repeater with a flat solid steel top receiver. His invention was also the first to eject spent cases out the side of the receiver rather than the top. Hepburn developed this design specifically to increase shooter safety in the event of a hangfire. The model also featured a one-piece trigger and a two-piece firing pin that prevented firing if the finger lever was not completely closed.
The Marlin Model 1894 quickly became the preferred weapon of gold prospectors and frontiersmen in Canada, Alaska, and the Pacific Northwest. The weapon was well-suited for colder climates because the solid top frame prevented dirt, debris, ice, and snow from entering the receiver. This was a major selling point for those who needed a reliable weapon in the face of frequent sub-zero temperatures and encounters with dangerous animals.
Despite the fact that more than 125 years have passed, the fundamental structure of the Model 1894 hasn't changed. It still has the tell-tale flat solid steel top receiver, two-piece firing pin, and one-piece trigger. However, the Model 1894 does come in several variants.
Model 1894 44 Magnum/Special and .45 Colt - This lightweight carbine is chambered in your choice of .44 Rem Mag, .44 S&W, or .45 Colt. It features a straight-grip stock, adjustable semi-buckhorn sights, and a tubular magazine with a 10-shot capacity.
Model 1894 CSBL - This model features a stainless steel action and barrel and a Western-style big-loop finger lever. It also features a laminated stock, an XS level rail with ghost ring sights and an 8-shot tubular magazine. The CSBL is available in .38 Special or .357 Magnum. If you want the same rifle in .44 Special or .44 Magnum, check out the Model 1894 SBL
Model 1894 CST - The CST features a 16 ½-inch threaded stainless steel barrel with a satin finish. This one is perfect for adding a suppressor. It also comes with an 8-shot magazine capacity, big-loop finger lever, and XS ghost ring sights. This rifle is available in .357 Magnum and .38 Special.
Model 1894 LE .45 Colt - This limited edition Model 1894 (only 1500 were made) is blinged out with an engraved receiver with gold inlay. It also features a luxurious black walnut stock and classic polished blued finish. It comes chambered in (you guessed it) .45 Colt and holds 10 rounds in its tubular magazine.
Model 1894C - The 1894C looks and shoots like a classic. It features a straight stock made from American black walnut and deeply blued metal. The SBF ramp with a hooded front sight completes the classic profile. Chambered in your choice of .38 Special or 357 Magnum, the tubular magazine holds nine rounds.
Model 1894CB - "CB" stands for cowboy and this model fits the bill. It has a 20-inch tapered octagon barrel with Ballard-style rifling, black walnut forend and stock, and a semi-buckhorn rear sight. Available chambered in .357 Magnum, .38 Special, .44 Magnum, and .44 Colt.
Marlin Model 336
This lever-action carbine was released in 1948. A favorite rifle for deer hunting, the 336 is chambered for two popular deer cartridges, the .30-30 Winchester. and .35 Remington, and features Micro-Groove rifling for increased range and accuracy. The Marlin Model 336 collection includes the following versions.
Model 336C - The flagship of the Model 336 family, the 336C is one of the most respected hunting rifles to ever hit the American woods. It has a 6-shot tubular magazine, a black walnut pistol- grip stock, polished blued barrel, and an adjustable semi-buckhorn folding rear sight and ramp front sight with brass bead. There is also an attractive version with a curly maple stock, as well as a stainless steel variation (336SS).
Model 336 Dark Series - With a stealthy black matte parkerized finish and a black-webbed hardwood stock, the 336 Dark Series provides hunters a tricked-out tactical feel. Other cool features include a paracord-wrapped lever, paracord sling, threaded barrel, and an XS LeverRailto accommodate a modern optic. This firearm has a 5-shot magazine capacity and is chambered for .30-30 Winchester.
Model 336BL - With a 6-shot, full-length tubular magazine, a brown laminated hardwood pistol-grip stock, and a rubber butt pad, this .30-30 rifle is perfect for chasing whitetails and wild hogs.
Model 336W - The 336W is a .30-30 with a walnut finished hardwood stock that comes drilled and tapped for scope mounts.
Model 336XLR - Marlin turned this .30-30 into a long-distance deer dropper by using a 24-inch barrel with a 1:12 twist rate, letting you make effective shots out past 250 yards. Built to withstand harsh weather and rough hunting conditions, this firearm features stainless steel and laminate components.
Marlin Model 1895 (Big Bore)
Don't let the name fool you. The Marlin Model 1895 was first introduced in 1972. Chambered for big bore rounds of .45-70 Government, one of these short-barreled rifles with weatherproof finishes makes the ultimate "guide gun."
Model 1895CB and 1895CBA - With traditional American style, these lever-action firearms feature black walnut stocks, tapered octagon barrels, and a polished blued finish. The CB has a 26-inch barrel and a nine-shot tubular magazine. The CBA has a shorter 18 ½-inch barrel and a magazine capacity of six rounds.
Model 1895G - The lightweight 1895G hits heavy. This versatile carbine has a 4-shot tubular magazine, an 18 ½-inch barrel with Ballard rifling, and a solid top receiver drilled and tapped for an optic mount. It has an American black walnut stock with cut checkering and deeply blued metal surfaces. The 1895GS features a stainless steel receiver, while the 1895 GBL showcases a two-tone brown laminate pistol-grip stock.
Model 1895SBL - With a six-shot full-length tubular magazine, 18 ½-inch stainless steel barrel with Ballard-type 1:20 twist rifling, and big-loop finger lever, this quick-shooting rifle lets you cycle through rounds with lightning speed. You also get an XS LeverRail with Ghost ring rear sight and front sight post.
Model 1895 Dark Series - Like the 336 Dark Series, this blacked-out carbine has a 16 ½-inch metal barrel with a parkerized finish. It comes with an XS LeverRailwith ghost ring, a paracord wrapped big-loop lever, and a paracord sling. The stock is painted black with black webbing, creating a stunning tactical look.
Summing It Up
Marlin has made the traditional lever action rifle a versatile modern weapon. If you want a traditional frontier firearm, a rifle optimized for deer hunting, or a weapon for modern tactical applications, there is a Marlin lever action that fits the bill.