Posted by Alice Jones Webb on Jan 31st 2020
First introduced in 1964, the Ruger 10/22 may be the best-selling rimfire rifle ever produced in the United States. Inexpensive and lightweight, the semi-automatic 10/22 is certainly one of the most prolific firearms in America. These low recoil rifles are incredibly versatile and can be used by beginners and experienced marksmen alike.
Whether you need a rimfire rifle for hunting small game, serious competition shooting, or to simply knock bottles off fence posts, there is a version of the Ruger 10/22 perfect for the job. The 10/22 has more aftermarket support than any other firearm on the market (with the possible exception of the AR-15), so if you can't find one that fits your personality and shooting style, you can easily customize one to suit your needs.
What is the Ruger 10/22?
The Ruger 10/22 is a rimfire rifle produced by American firearm manufacturer Sturm, Ruger and Company. In continuous production since 1964, the 10/22 features a patented rotary magazine with a standard 10-round capacity (although higher capacity box magazines can be purchased separately) and an aluminum receiver.
Typically chambered for .22 Long Rifle cartridges, the 10/22 was offered briefly in a .17 HMR version available in 2004 and 2005. Ruger also previously manufactured a 10/22 Magnum chambered for .22 WMR.
A Unique Rotary Magazine
The Ruger 10/22 is fed from an exclusive rotary-style box magazine. Unlike most box magazines which stack cartridges, the 10/22's unique rotary design separates the cartridges in a cog-like wheel. This proprietary magazine construction makes the magazine surprisingly compact and allows it to mount flush with the rifle's exterior.
Each time the trigger is pulled, the rifle's bolt pushes a cartridge from a specialized feeding lip at the top of the magazine and allows a new cartridge to feed into place for the next shot. Ruger's rotary magazine design is time-proven and highly reliable. The same design is also featured in the Ruger American series of bolt-action rifles.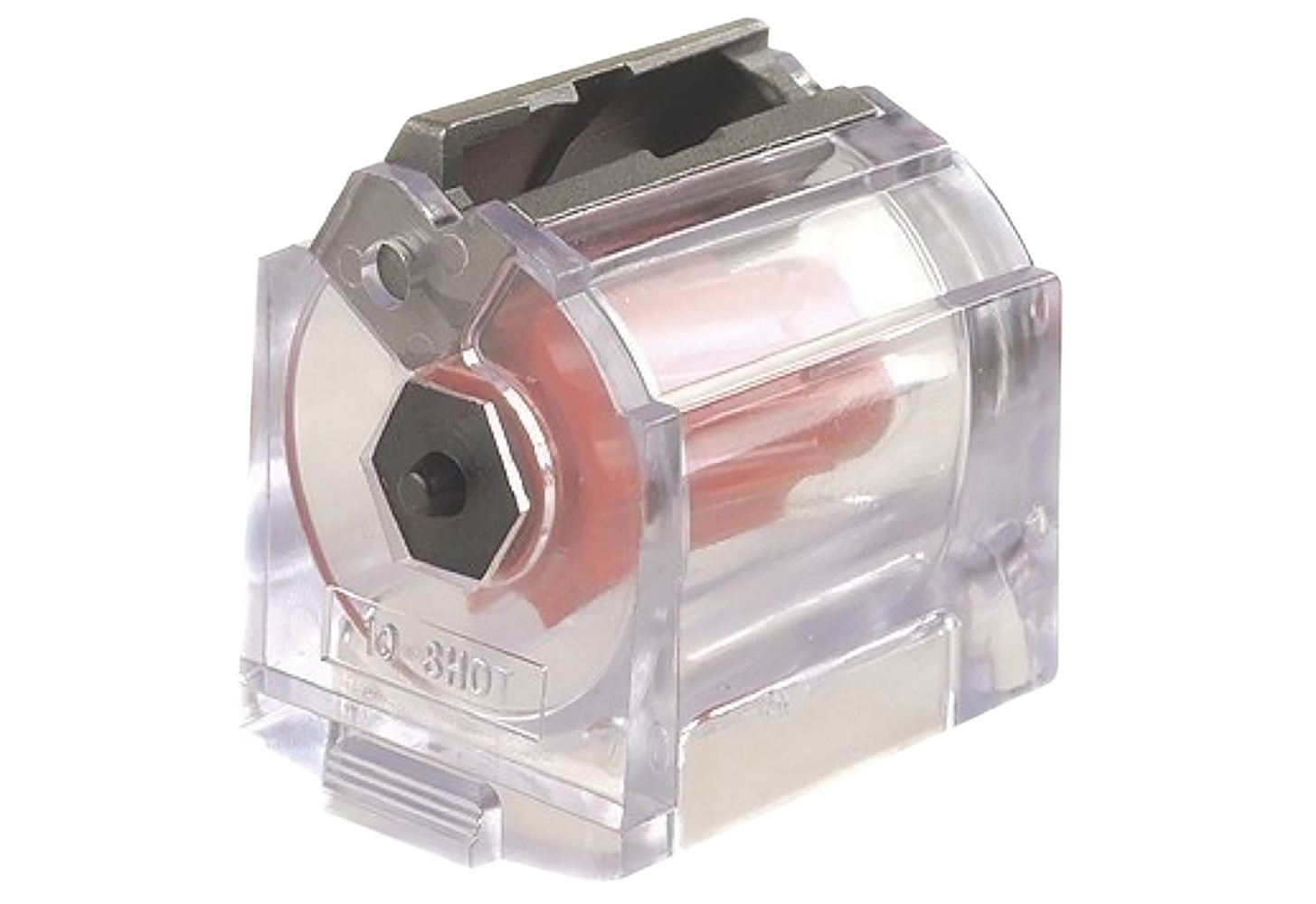 V-Block System
The cold hammer-forged steel barrel of the 10/22 locks into the receiver with a unique two-screw V-block system. This easy-to-use system allows you to remove or replace the barrel without the assistance of a gunsmith. You don't even need any special tools.
Versions of the Ruger 10/22
The Ruger 10/22 is a wildly popular and incredibly versatile weapon. Currently, Ruger makes nearly twenty different models across eight variations, and that doesn't include exclusive models produced for individual distributors.
There are literally dozens upon dozens of options to choose from. Space here is limited, so we've decided to cover the basic Ruger 10/22 variations. (For more information on specific models, visit the 10/22 listings on the Ruger website.)
Ruger 10/22 Carbine
The modern Ruger 10/22 Carbine is the closest to the original model released in 1964. Today, the 10/22 Carbine is also considered the standard variation of this famous rimfire rifle. These general purpose rifles are great for hunting varmints or small game and for some plain old-fashioned backyard plinking.
Ruger sells the 10/22 Carbine in a variety of configurations, with any number of stock and barrel combinations. However, they share the same overall design with an 18 ½-inch barrel and a a total length of 37 inches. The 10/22 Carbine variation features the signature V-Block system and exclusive rotary magazine. All 10/22 Carbines also come with an adjustable rear sight and a gold bead front sight.
Ruger 10/22 Takedown
A favorite of preppers, survivalists, and backcountry campers, the Ruger 10/22 Takedown allows you to quickly and easily disassemble your weapon. Reassembly is simple, and once the action and barrel are secured, the rifle consistently returns to zero, even with a receiver-mounted scope.
The 10/22 Takedown comes in a variety of stock materials and a selection of barrel lengths ranging from just over 16 inches to an ample 18 ½ inches. The rifle also comes with a convenient carry case for easy storage and transport.
Ruger 10/22 Tactical
The 10/22 Tactical was designed for upgrades. If you want a custom 10/22, but don't want to pay a premium price for a custom build, this is the rifle for you. In place of factory sights, the 10/22 Tactical has an integrated scope base adapter for both Weaver-style and .22 tip-off scope mounts, so you can easily add your favorite modern optic.
The 10/22 Tactical also features a threaded barrel (½"-8 thread pattern) already topped with a Ruger flash suppressor. It is also compatible with the Silent-SR suppressor, which makes this already quiet shooter almost whisper silent.
Ruger Custom Shop 10/22 Competition
Designed for high-stakes competition shooting, every part of the Ruger 10/22 Competition rifle is optimized for the target range. It features a free-floating heat-treated steel barrel with a fluted design to reduce weight, improve heat dissipation, and increase high-volume accuracy. The 10/22 Competition also has an optimized trigger with a light, crisp pull that allows for minimal overtravel and a positive reset. And with an integrated 30 MOA Picatinny rail, this rifle is ready for your favorite long-range optic.
Ruger 10/22 Compact
Although every version of the 10/22 is lightweight and relatively small, the Compact version takes it one step further. This scaled down rifle has a short 16.12-inch barrel, an overall length of just 34 inches, and a shorter length of pull compared to the 10/22 Carbine. Perfect for smaller shooters, the 10/22 Compact also features fiber optic sights which are perfect for young shooters just learning how to properly line up their shots.
Final Thoughts
With so many options and aftermarket upgrades and accessories available, there is a Ruger 10/22 rimfire rifle to suit you. If you are still on the fence about whether you need one of these legendary firearms, remember that they are legendary for a reason. It takes more than a witty advertising campaign to consistently rank as one of the top-selling American firearms for more than 55 years. It takes consistency, accuracy, and performance, and the Ruger 10/22 delivers big in all three categories.